Get Involved By Supporting An Event!
---
Highmark Walk for a Healthy Community
CHANGES:
Out of an abundance of caution, and for the protection and safety of our Walk participants and volunteers, the difficult decision has been made to modify all seven 2020 Highmark Walks for a Healthy Community to an online only fundraiser and virtual walk for this year's campaign.
This modification ensures that our participating organizations are still able to fundraise, via our online platform; while not putting participants at risk of further spread of the COVID-19 virus in a mass gathering situation. This change is also in accordance with the CDC's recommendation of social distancing and avoiding mass gatherings.
While this year's Walk for a Healthy Community throughout Pennsylvania and Delaware will be online and virtual only, this approach provides the 273 local nonprofit health and human service organizations a way to safely participate and raise funds.
Details of the changes in regards to fundraising incentives, t-shirt distribution and donation deadlines are provided below.
Changes for the 2020 Highmark Walk for a Healthy Community:
• A virtual walk is a real walk, but it's on your terms! Anytime between May 9 – June 30, you choose how and when you walk (treadmill, park or trail, or around the neighborhood) – it's your choice! You also pick the time of when you start and stop!
• This year to keep up the momentum of individual fundraising, we have lowered the minimum amount raised to receive a t-shirt to $15 before June 30, 2020. (previous amount $30) T-shirts will be distributed to organizational leaders in July.
• We will continue to offer (1) raffle ticket for every $50 raised. Raffle chances are tracked online within the individual walker milestone tracker on the Luminate online system. All donations much be credited to the individual walker account by the walk organization by June 30, 2020. Prizes will be distributed in July.
We're very proud to be a part of this event and hope you'll join us! If you have any questions, please let us know and we'll do our best to get the answer. This is new and a bit different for all of us, so we appreciate your patience and support!
Erie Gives Day is back for the 10th year, and we're thrilled to be participating again. During this one day event, every gift of $25 or more receives a prorated match (more info on this match can be found at eriegives.org!.)
Donors can also write a check for their Erie Gives donation! Checks must be made out to "The Erie Community Foundation." All check donations must be accompanied by a Check Donation Form, which will be available online soon. Checks must be delivered to The Erie Community Foundation (459 West 6th Street, Erie, PA 16507) no later than Monday, August 10, 2020.
All money donated to St. Martin Center will provide food, clothing, rent/utility assistance, home buying counseling, financial counseling, early childhood care and education, and more.
We hope you'll join us!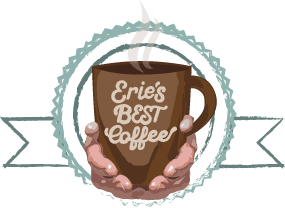 SAVE THE DATE!
Join us for the 6th event that is Erie's only coffee-sampling fundraiser. Tickets will be $10 in advance, $15 at the door, and kids ages 12 and under are free. Tickets include all sampling. Try coffee from all of our vendors and vote for YOUR favorite! Celebrity judges will also cast their votes for the Judges Choice award.
Enjoy kids' activities, music, and more! The Bayfront Convention Center will also be selling concessions.
We're also very pleased to have Mill Creek Coffee Company joining us again as a proud sponsor and partner.
We hope to see you at Erie's Best Coffee 2021. Keep checking back for information on participating shops!