Our Mission
Strengthening lives and supporting our community by providing immediate assistance, education and long-term services, consistent with our Catholic values.
Senior citizens, students, veterans, families, and others... everyone needs a helping hand sometime.  We are here to help in times of crisis, and we're here to help those who are ready to achieve long-term goals.  
Emergency Needs:  food through our in-house food pantry; assistance for security deposits and/or rent; and mortgage assistance.
Long-Term Goals: financial literacy counseling; basic budget counseling; home buying education; and St. Martin Early Learning Center, a Keystone STAR 4 facility
---
Our Vision
All people have access to the resources they need to reach their goals.
We are proud to serve Erie County families and individuals each day with programs that help meet their most basic needs and programs that help them to ultimately become more self-sufficient.
Take a look around at our programs to see what might be available to you, or how you can support us if you are able.
And, of course, if you have any questions, please let us know!
---
Our History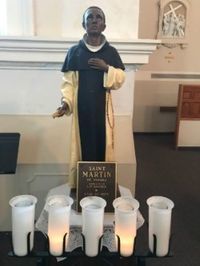 St. Martin Center is named for Saint Martin de Porres who was born in Lima, Peru. He worked tirelessly on behalf of the poor by feeding them and providing for them. He established orphanages and worked hard no matter how menial the task.  St. Martin de Porres has been called a forerunner of modern social work.  He is known as a patron of charity and social justice.  
We try to emulate Saint Martin's efforts each day by providing the best service and care to everyone who comes through our doors. 
This statue is found inside St. Stanislaus Parish.
 
---
Statement on Racism
St. Martin Center, Inc. in Erie, PA was named after Saint Martin de Porres.  He was a lay brother in Peru in the 1700's born of a Peruvian father and Black woman who was a slave.  He is known as the patron saint of the poor and Black Catholics.
The center's mission has always been modeled after St. Martin de Porres' calling and passion to serve ANYONE in need regardless of their race, religion or ethnicity.  
Compelled by the Gospel and inspired by St. Martin de Porres, St. Martin Center, Inc. stands united against RACISM in all its forms.